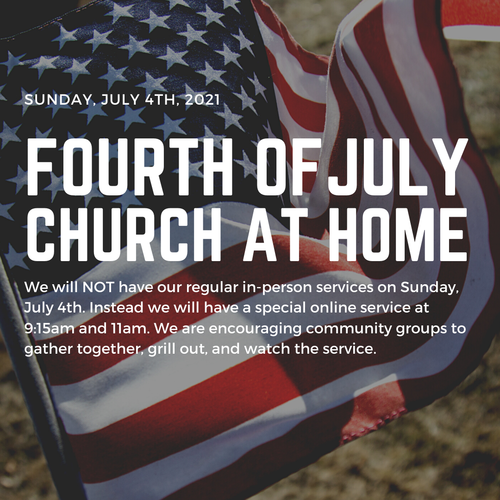 Church at Home - 4th of July
We will NOT have our regular in-person services on Sunday, July 4th. Instead we will have a special online service at 9:15am or 11am. We are encouraging community groups to gather together, grill out, and watch the service. We will continue our regular schedule on Sunday, July 11th.
Bless Every Home is an initiative that will help our church love and share the gospel with people in our communities. Through an interactive website, and app, our church members will be given an opportunity to be lights in their neighborhood. By utilizing the latest demographic information, you will receive promptings on a daily basis to pray for 5 families by name in your neighborhood. When reporting the activity on the website, the map will begin to shade the prayer coverage of the area. The strategy does not stop with Prayer however, it will resource you to able care for their neighbors, share the gospel with them and disciple them for a life journey of faith.
Summer Jam 2021 Recap Video
This past week we hosted our Summer Jam 2021 at our Walnut Grove location and it was incredible!! We had lots of kids, tons of volunteers, a whole lot of fun, and three kids give their lives to Jesus!! Thank you so much for all those that gave and helped make this event a huge success!! Check out the promo video above to see some of the fun that we were able to have.
Did you miss this past Sunday?
Russ continues our series by looking at trusting our Heavenly Father to meet our everyday needs. In this message Russ not only challenged us live lives of gratitude, boldly ask God to provide, and have "how much more" faith.
If you did miss the talk from Sunday, you can view it now by clicking on the image above. You can also view the message through out
YouTube page
, Audio Podcast, and the
Church at the Grove App.