The Dark Night of the Soul
DID YOU MISS THIS PAST SUNDAY?
This past Sunday we continued our series Soul Keeping. So far in this series we have discovered that our soul is the deepest part of our being that consists of our will, mind, and body. Our souls are needy and will chase after the idols of the world unless we are diligent to pursue the Lord our souls will never be satisfied with worldly endeavors. This week as we continued this series we learned that even the restored soul can struggle with the "dark night of the soul," where we experience suffering, deep pain, and depression. The world would encourage you to find relief by filling your life with more experiences, more activities and addiction to all different kids of things. However, when we experience these types of feelings and our soul is struggling we must learn to lean into the gift of God's presence, God's people, and God's promises.
If you missed this past Sunday be sure to
watch the message on our website
or Youtube, or listen to the message through our app or anywhere you listen to podcasts. We have also created a Sermon Application Guide to help you, and your group, apply the message to your life,
click here to download.
Covenant Family Membership Gathering - November 6th
Are you new to Church at the Grove, or have you been attending for a while? Your next step might be to find out more information about our church through our Covenant Family Membership gathering. This gathering is designed to help you better understand who we are as a church and how you can take your next steps by getting connect in the life of the church.

Saturday, November 6th from 5:30pm-8pm
Childcare will be provided.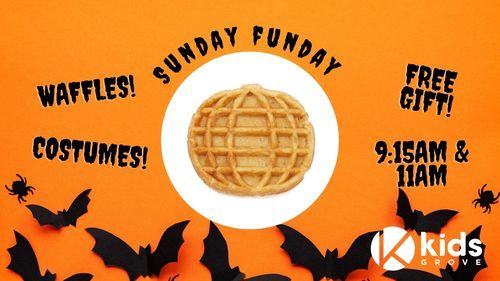 FUN DAY FOR KIDS GROVE THIS SUNDAY!
We are so excited for Sunday. Kids are invited to wear costumes to church. We are serving pumpkin shaped waffles and will be wrapping up our October series. We also have a special gift and activity to give your family that you'll want to be a part of.

Invite your friends and join us at 9:15 or 11:00.